Why is Sugar in This? Healthy Pasta Sauce Recipe.
Since watching the documentary Fed Up, I have been paying close attention to sugar content in food I purchase.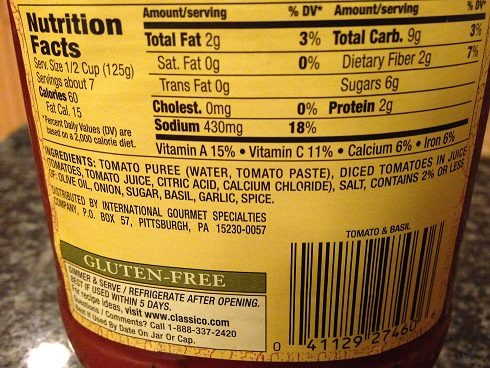 I was shocked when I read that the pasta sauce that I regularly purchase has 42 grams of sugar per jar.  My first thought was why is sugar in this at all?  I eat at least 1/4th of the jar for a pasta meal, and it dawned on me how "hidden" sugar in products like this can add up rapidly, easily exceeding a reasonable intake of sugar per day.  I have since discovered some pasta sauces that have about half the sugar content of the brand I used to purchase.  If you are looking for convenience and don't want to make pasta sauce from scratch, Rao's is one brand with no added sugar. However, while there is more effort involved, making pasta sauce from scratch is the best way to ensure informed, healthy meals.  Making a large batch of pasta sauce, which can be refrigerated for leftovers, and also freezes well, means you can make enough for multiple meals, reducing cooking time later.
I looked fora a healthy pasta sauce recipe online and many of the recipes call for tomato paste and canned tomatoes.  Tomato paste has added sugar and canned tomatoes don't taste nearly as good as fresh ones.  So I modified recipes, eliminating anything with added sugar and replacing canned foods with fresh ingredients.  The sauce tasted amazing. This is what I came up with and it makes enough for 4-6 servings.
6 tomatoes – peel and chop.  Put in medium size pan and reduce over medium heat.
1 onion – chopped.
4 garlic cloves – minced.
2 tablespoons of olive oil – over medium high heat grill onion and garlic in oil for 2 minutes.
I estimated the amount for rest of the ingredients.  Add the following to the onion and garlic and grill for 1-2 mins stirring constantly.
Dried or fresh Basil – used liberally, as per personal taste.
Balsamic vinegar – around 2-3 tablespoons.
Hot sauce – around 2 tablespoons.
Italian Herbs – mixed Italian herbs. Sold in spice section at store.
Dash of sea salt.  I didn't use much of this because there is salt in hot sauce.
Crushed red pepper.  I love this stuff so I used it liberally.
Add the onion garlic spice mixture to the sauce pan with the tomatoes and simmer for 45 minutes, stirring every few minutes.  While simmering, cook your favorite pasta, steam a vegetable and BBQ a protein.  Poor over your favorite pasta and serve.  I had a BBQ chicken apple sausage and steamed kale for my sides; a healthy and delicious meal!
https://hillingerpt.com/wp-content/uploads/2019/12/logosmall.png
0
0
2fitness_8aerh
https://hillingerpt.com/wp-content/uploads/2019/12/logosmall.png
2fitness_8aerh
2014-11-04 14:46:41
2014-11-04 14:46:41
Why is Sugar in This? Healthy Pasta Sauce Recipe.