Protein Power Balls – A Healthy Snack Recipe By Janice Hillinger
After a lot of questions about how to make the power balls I mentioned in my last post, my wife Janice sat down and wrote up her recipe so you can make them yourself.  Enjoy!  Thanks Janice for the wonderful healthy snack recipe!
This recipe evolved from a failed attempt at making protein bars. By making several adjustments to the ingredients list and rolling the bars into balls, I created my "go to" recipe for healthy, sweet snacks.
George and I use predominantly organic ingredients but you can use whatever you have in the cupboard. Aim to use ingredients without sugar added, as the dried fruits provide sufficient sweetness.
Ingredients:
1/3 cup unsweetened almond milk
1/3 cup unsweetened dates, raisons, prunes or dried cherries
1/2 cup (uncooked) rolled oats
1/2 cup almond meal
1/4 cup unsweetened cocoa powder
1/4 cup chocolate protein powder (*see notes)
1 tsp cinnamon
1/4 tsp cayenne powder
1 tbsp chia seeds (optional – *see notes)
1/8 to 1/4 cup unsweetened coconut flakes, to coat
Directions:
In a food processor (or blender), combine the almond milk and dried fruits until well blended or "pulpy".
Slowly add rolled oats, then add almond meal, cocoa powder, protein powder, cinnamon and cayenne and mix. With my blender I have to use a wooden spoon to mix in these last ingredients.
To prepare for rolling, place the coconut flakes in a separate bowl or on a plate.
Form the chocolate "dough" into 1-inch balls using your hands. This will get messy! As required, add a little more almond milk or almond meal to get the right consistency.
No baking required. It's that easy. Enjoy!
*Notes:
– I use Vega plant-based protein powder because it doesn't include artificial colors or flavors. Vega frequently has sample size packs available for sale at stores such as Whole Foods, if you'd like to try it out before committing to a tub.
– Alternately, if you don't have protein powder, you can proportionally increase the almond meal and cocoa to make up the extra ¼ cup.
– The great thing about this recipe is that it is versatile. Sometimes I add chia seeds or other nuts I have in the cupboards, and sometimes I don't. It's a fun way to use up leftover baking ingredients (just keep it healthy!)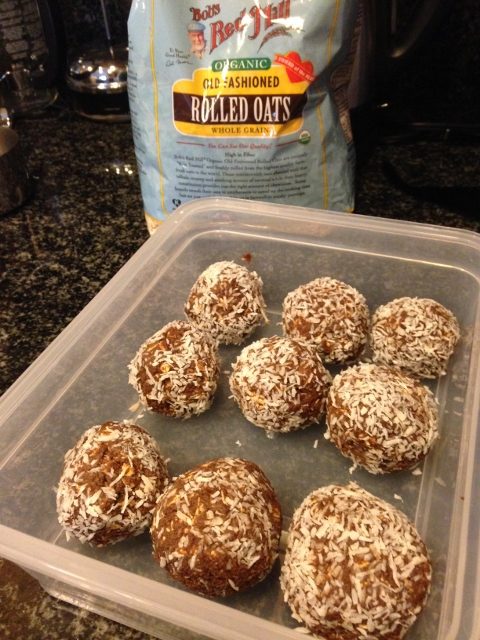 https://hillingerpt.com/wp-content/uploads/2019/12/logosmall.png
0
0
2fitness_8aerh
https://hillingerpt.com/wp-content/uploads/2019/12/logosmall.png
2fitness_8aerh
2015-02-24 10:51:53
2015-02-24 10:51:53
Protein Power Balls – A Healthy Snack Recipe By Janice Hillinger